Meet Amy
Applesby Airlines inflight magazine, 'Let's Fly, Fly Away', interviewed Amy as part of their 'Get to know our crew' back in 2005. We hope you enjoy her answers. Remember you can pick up a copy of the magazine inflight or from any quality airport lounge.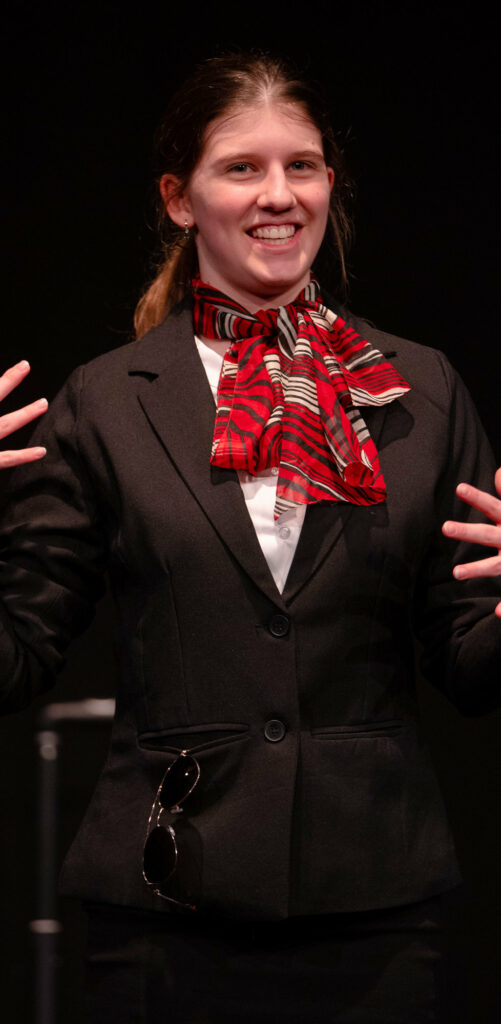 ---
Amy is played by Ava Borthwick in Attendants – Coming to the Edinburgh Festival Fringe this August – Thursday 4th to Saturday 12th.
What's your job at Applesby Airlines?
Flight attendant. I love it 80% of the time but that other 30% usually consists of flights to Mallorca, haha. I don't know what it is with annoying families and that flight!
What's your favourite colour?
Probably a nice light blue, or a pale pink.
What's your favourite album?
Anything by Britney or Girls Aloud really but a bit of the old stuff like ABBA and Bananarama are good too.
Your friends would describe you as …?
I'm going to say bubbly and maybe a bit of a dimwit sometimes haha.
How old are you?
I'm 23, I think. Wait, yeah, no I'm 23.
How long have you worked for Applesby Airlines?
I started in 2001, I think, so about 4 years. Still can't believe I've been there the longest out of all of us.
Go to karaoke song?
Oh definitely Wannabe by the Spice Girls, I love that song!
What's your favourite film?
I dunno, I quite like Sweet Home Alabama and the new Just Like Heaven – anything with Reese Witherspoon in it really!
If you weren't a flight attendant, what would you be?
Ooh maybe I'd run a little bakery or work in a cafe, so long as I get to work with food, I'm happy.
What's your favourite country you've visited with the Applesby Airlines?
It's a basic answer but I really like Spain – I've been loads with the company and when you're not flying to Mallorca anything's a blessing!
---
Please Note: Applesby Airlines, and all the characters portrayed in Attendants, including Amy, are fictional and were dreamt up in the minds of Amelie Breach, Ava Borthwick & Lola Morgans. You can enjoy meeting all the characters in Attendants at the Edinburgh Festival Fringe from 4th to 12th August 2023.